UPCOM MC208-2FG is a Gigabit Copper to Fiber Converter support 8-port 10/100/1000M Base-T(X)+2-port 1000M FX,plug-and-play, no configuration required, can be operated at wide temperatures range from 0 to 50°C.
MC208-2FG support 8-port 10/100/1000M Base-T(X)+2-port 1000M Fiber, adopts durable metal housing, external DC5V, is a flexible and cost-effective solution that can extend transmission distances to 120km through a single-mode fiber, protecting data from noise and electromagnetic interference.
MC208-2FG is ultra-small in size, with shielded RJ45 Ethernet jack, SC/FC/ST fiber-optic connector. Built-in auto-sensing function supports full or half-duplex Ethernet operation, widely used in MAN (metropolitan area network), security monitoring, intelligent transportation and other applications.
MC208-2FG supports stand-alone installation, can realize the interconnection between repeaters, hubs, switches, terminals. all photoelectric interfaces conform to international standards, and the products are suitable for different harsh industrial environments. The installation and operating procedures of the Fiber Optic Media Converter are simple and straightforward. Operation status can be monitored through a set of Diagnostic LED located on the front panel, including single-mode and multi-mode transmission modes, the multi-mode can transmit 2km, single-mode can reach up to 120km.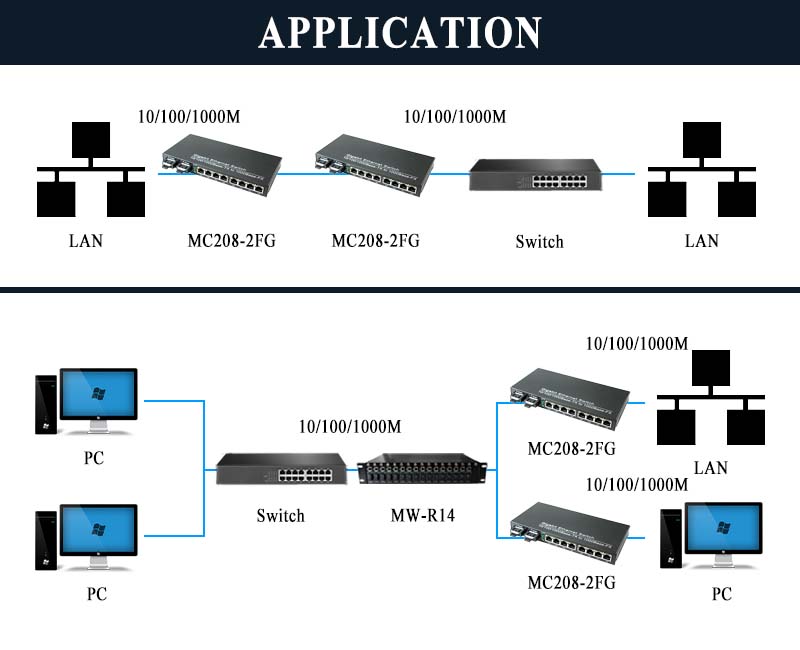 ĐẶC TRƯNG
 Support 8-port 10/100/1000M Base-T(X)+2-port 1000M FX;
 Accord to IEEE802.1 10Base-T, IEEE802.3u 100Base-TX,IEEE802.3ab 1000Base-TX, IEEE802.3z 1000Base-SX/LX;
 Support MDI/MDI-X auto negotiation, 10M/100/1000M adaptive;
 Support flow control;
 Supports full /half duplex, Point-to-point transparent transmission;
 Support non-blocking wire-speed forwarding;
 Plug-and-play, no configuration is required;
 LED indicators for easy diagnosis and monitoring work status;
 Support External power 5VDC input;
 Support 0-50°C wide operating temperature range;
 Low power consumption, No fan, Metal casing;
 Support stand-alone or wall Installation;
 FCC Class A & CE approved, RoHS compliance;
 Warranty:3years
THÔNG SỐ KỸ THUẬT
Specification
Product Name
8-port  10/100/1000M Base-T(X)+2-port 1000M Fiber Media Converter
Product  Model
MC208-2FG
Port  Definition
8-port  10/100/1000M Base-T(X)+2-port 1000M Fiber
Standards
IEEE802.1  10Base-T, IEEE802.3u 100Base-TX,IEEE802.3ab 1000Base-TX, IEEE802.3z  1000Base-SX/LX
RJ45  port rate
10/100/1000Mbps  auto negotiation
Optic  port rate
1000Mbps
Working Mode
Asynchronous, point to point
Transmission mode
Half/Full duplex
Forwarding Mode
Store and Forward(Full Wire Speed)
Transfer distance
RJ45port
100m
Fiber  optic
20,40,60,80,100,120km(SM),2 km(MM) optional
RJ45  port cable
UTP  5E
Fiber  connector
FC/ST/SC  Optional
Fiber  optic cables
Single  Mode:8.3/125,8.7/125,9/125 or 10/125µm

Muti-Mode:50/125,62.5/125µm

Wavelength
850nm,1310nm,1550nm
Power
Power supply
External 5VDC
Consumption
<8W
Working  Environment
Operating Temperature
0-50oC
Storage temperature
-40°C to 70°C
Ambient Humidity
5%~95%  (non-condensing)
MTBF
≥10.0000h
Physical Characteristics
Shell
Iron
Dimension
215mm*125mm*26.5mm
Weight
800g(power  external)
Installation
Desktop or  wall
Warranty
Warranty
3 Years
Certification
CE, FCC, RoHS
Products in the same series
| | |
| --- | --- |
| Model | Description |
| MC204 | 4-port 10/100/1000M Base-T(X)+1-port 1000M FX, 5VDC, SC/FC/ST optional |
| MC204-2FG | 4-port 10/100/1000M Base-T(X)+2-port 1000M FX, 5VDC, SC/FC/ST optional |
| MC208-2FG | 8-port 10/100/1000M Base-T(X)+2-port 1000M FX, 5VDC, SC/FC/ST optional |
Download
Tham khảo thêm các sản phẩm khác của Công ty TNHH Công Nghệ và Viễn Thông Hải Phong chúng tôi