MW80F is an industrial grade,Din-Rail RS-232/RS-485/RS-422 to fiber converter, work in pairs to extend serial signals (RS232, RS485, RS422) over a multi-mode or single mode fiber, the converter simultaneously receives incoming optical signals and converts them back to the original electronic signal, allowing for full duplex (with 4 contacts) or half duplex (with 2 contacts) transmission.
MW80F resistant to radio and electrical interference, such as EMI/RFI, transient surges and ground loops, built-in 600W surge protection, 15KV ESD and circuit protection, and it overcomes the limitations of conventional point-to-point fiber network and expands the serial data network in terms of distance, flexibility and reliability, widely used in various industrial controls, distributed data acquisition and other occasions, especially suitable for power system automation, traffic control and other departments.
Diversity Serial Conversion
RS232/RS422/RS485 port can be mixed and matched that allows you can have same data type on both side, or one side RS232 and the other side RS485 or RS422.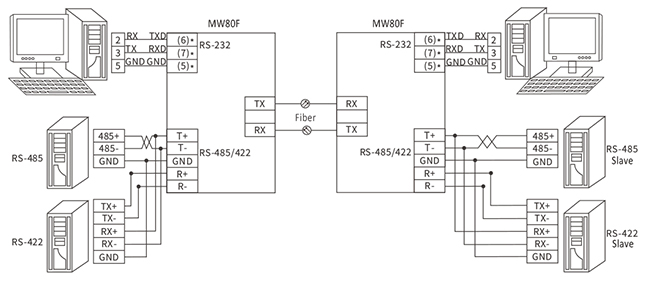 RS232 to Fiber Optic Converter
RS232 to Fiber Optic Converter convert an standard full-duplex RS-232 electrical signal into light signals through a single mode or multi-mode fiber optic cable, distance can up to 20km, it provide fully transparent operation with data, clock, and common control signals, usually use a db-9 connector for the RS232 serial port, FC, SC or CT fiber connector are available. The typical application is point-to-point.

RS422/RS485 to Fiber Optic Converter

The RS-422/RS-485 to Fiber optic Converter usually use a 7pin terminal block connector for the fiber optic link. can converts either full-duplex, half-duplex RS-485 or full-duplex RS-422 data up to 20km through via a single mode or multi-mode fiber optic cable,
RS422/RS485 to fiber optic converters are installed at each end of the fiber link and provide media conversion for connectivity between a serial host/controller and multi-drop serial devices. RS422/RS485 to fiber converter provide the multi-drop connection, In the RS-485 network, it allows connect up to 128 serial devices and RS422 bus support connect to 64 serial device.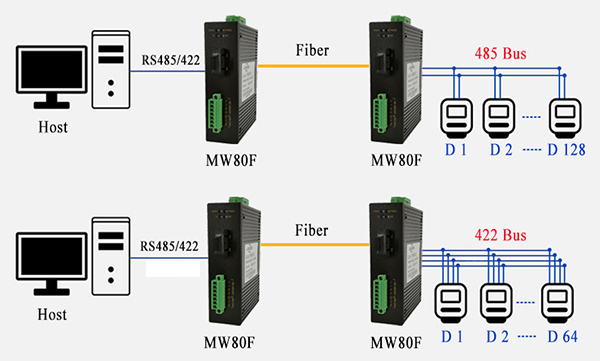 PIN SETTING
The RS232/485/422 signal port adopt 7pin industrial block,  When connect to RS232 port, pin 6 is TXD(sent signal), pin 7 is RXD(receive signal), pin 5 is GND(Ground). as for RS-485 port, pin 1 is A+(485+), pin 2 is B-(485-) and pin 5 is GND. when use RS-422 port, pin 1 is T+, pin 2 is T-, pin 3 is R+, pin 4 is R-, pin 5 is GND.

POWER SUPPLY
MW80F supports  DC5-30V or AC/DC 220V, when use AC/DC220V, the terminal block should connect to V1+,V1-.

Optical Transceivers
Serial to fiber converters are used in pairs, single-fiber, single-mode,20km is commonly used for a long-distance transmission, multi-mode,2km is also available, UPCOM adopt high quality 1*9 fixed module, SC/ST/FC connector optional, strong anti-interference ability, stable transmission.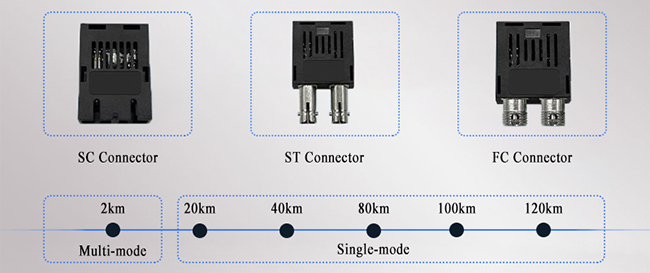 ĐẶC TRƯNG
Support 1-port RS-232/RS-485/RS-422 to Fiber;
Support EIA RS-232, RS-485, RS-422 Standard;
Plug-and Play(hot-pluggable);
ST/SC/FC fiber optic connectors optional;
Fiber optic range up to 20KM;
600W surge protection;
15kv static protection(ESD);
Signal flow is automatically identified and transparently transmitted;
Imported optical transceiver module to ensure the transmission distance;
The baud rate adapts without changing the user protocol;
Industrial design, aluminum housing;
Support DIN-Rail Mounting;
Support DC5-30V or AC/DC 220V;
Working temperature range:-40~85°C;
Warranty: 5years
THÔNG SỐ KỸ THUẬT
Technical parameters
Standard
Compliant  with EIA RS-232, RS-485, RS-422
Interface
Serial  Port: Meet RS-232/RS-422/RS-485 Physical characteristics,7  ways Industrial  terminal block
Optical  interface: Single/multi-mode optional, SC/ST/FC connector optional
Baud Rate
300bps~115.2Kbps, rate adaptive  signal
LED Indicator
Power indicator
POW
Data transmission indicator
TX, RX
Power
Power Supply
DC5~30V
Interface
BNC coaxial input,industrial terminal block
Power
<1W
Overload protection
Support
Lightning protection
600W
Static protection
15KV
Physical Characteristics
Shell
Aluminum housing
Dimension
126mm×34mm×72mm(H*D*W)
Weight
460g
Transmission distance
Serial port line
RS-232, 15m@9600bps
RS-422/RS-485, 1.2km@9600bps
Multi-mode fiber
1310nm, 2Km
Single mode fiber
1310nm, 20Km,1550nm, 40km/60km/80km/100km
Working Environment
Working Temp
-40~85°C
Storage Temp
-40~85°C
Relative Humidity
5%~95% (no-condensation)
Warranty
Warranty
5 Years
Certification
CE, FCC, RoHS
Products in the same series
| | |
| --- | --- |
| Model | Description |
| MW50F | 1-port RS232/RS485/RS422 Over Fiber Modem, single fiber,20km, DC5-30V |
| MW80F | 1-port RS232/RS485/RS422 Over Fiber Modem, single fiber,20km, DC5-30V or AC/DC 220V, Din-Rail |
| MWF501-D | 1-port RS232/RS485/RS422 Over Fiber Modem, single fiber,20km, DC12-48V, AC/DC 220V, Redundant Ring |
Download
Tham khảo thêm các sản phẩm khác của Công ty TNHH Công Nghệ và Viễn Thông Hải Phong chúng tôi