HPC-FE1-ETH is a single port Framed E1 to Ethernet Converter (also referred to Ethernet Bridge), realizes interconnection of two Ethernet by using the E1 channel provided by existing networks, which can provide high-speed, high performance LAN to WAN connections.
The E1 interfaces comply with ITU-T G.703 and G.704 protocols, and support RJ45(120ohm, balanced) and BNC (75ohm, unbalanced) connection. There are Framed E1 and Unframed E1, The user may select any operation mode according to the environment of E1 connections. In the framed mode, the E1 interface provides a rate of N*64Kbps(N=1~31). In the Unframed mode, the E1 channel provides a rate of 2.048Mbps to transparent transmission.
The HPC-FE1-ETH Bridge usually installed and used in pairs, with one terminal installed at either end of the network, this device can also be used with HPOM-4E1-4ETH to meet various application requirements.
HPC-FE1-ETH supports DC-48V or AC220V power supply, provides various functions such as MAC address self-learning, address filtering, address table maintenance and flow control, and supports local loop and remote loop. It also provides pseudo-random code test function to test error codes in the circuit. Widely used for connection and monitoring WAN and LAN.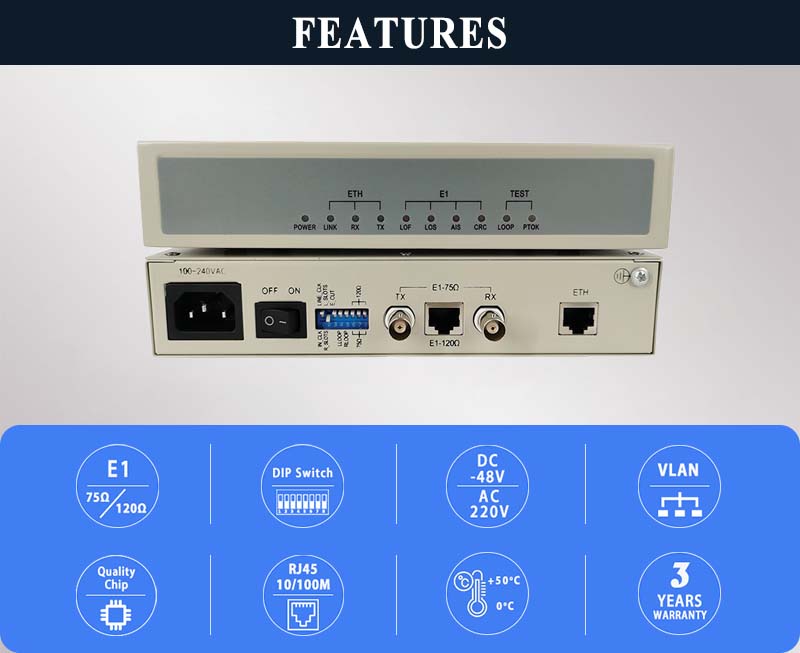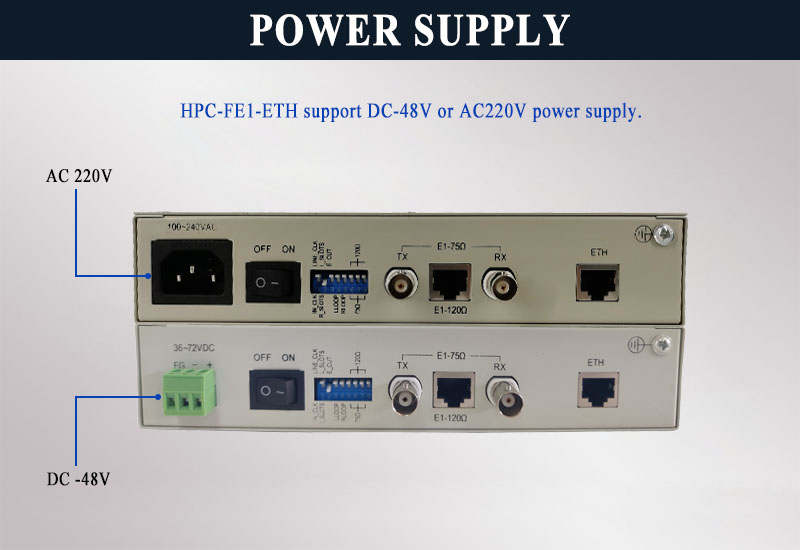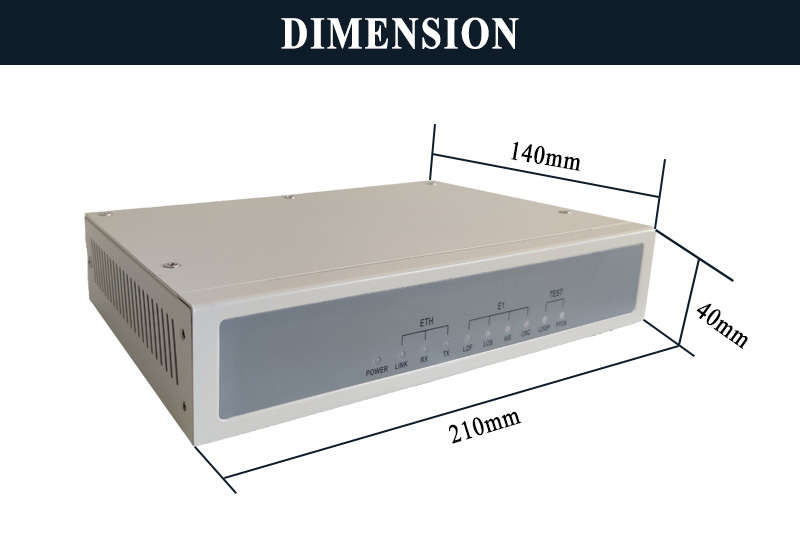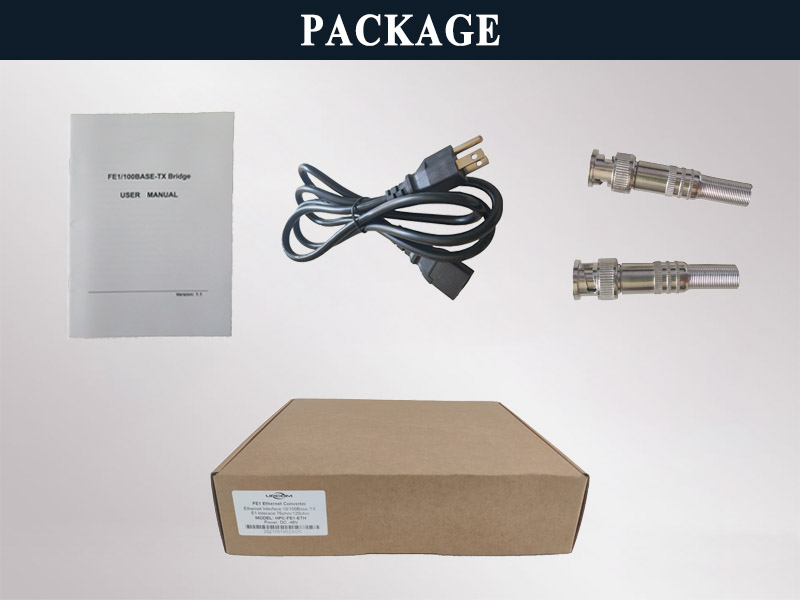 ĐẶC TRƯNG
 Comply with IEEE 802.3、802.3u Ethernet, ITU-T G.703, G.704 and G.823 protocols;
 Support 2 type E1 impedances: 75 Ohm unbalance or 120 Ohm balance;
 The number of time slots is optional from 1 to 31, rate is N*64k (N=1 to 31);
 Framed E1 support master clock or slave clock;
 Support E1 line remote loopback and local loopback test functions;
 Support line pseudo random code test function, convenient to test E1 line status;
 Support complete line detection and alarm indication;
 Support MAC addresses self-learning and addresses filtering functions;
 Built-in 64Mbits SDRAM Ethernet data buffer to ensure high throughput of data transmission;
 The E1 interface uses PCM31 mode, supporting CRC check;
 LED indicate local status and remote status for easy troubleshooting;
 Support DIP switch management;
 Ethernet support half/full duplex adaptive, MDI/MDI-X auto negotiation;
 Support VLAN function;
 Support DC-48V or AC 220V power supply optional;
 Support 0-50°C wide operating temperature range;
 Warranty:3years
THÔNG SỐ KỸ THUẬT
E1 interface
Channel  capacity
1  Channel
Interface  Rate
n x 64Kbps (n=1~ 31)
Bit  rate
2.048Mb/s±50ppm
Code  format:
HDB3
Line Impedance
75 Ohm BNC and 120 Ohm RJ45
Connector
BNC or RJ45
Pulse Shape
ITU-T G.703, G.704
Jitter Performance
ITU-T G.823
Clock mode
Internal-clock, Line-clock
Ethernet interface
Interface Rate
10/100BaseTx
Duplex
Half / full duplex adaptive
Interface character
IEEE802.3U, IEEE802.3x, IEEE802.1Q (VLAN)
Connector
RJ45
MAC table
4096
Physical
Dimension
140mm(D)*40mm(H)*210mm(W)
Weight
1Kg
Power supply
DC-48V  or AC96 -260V
Power  consumption
3W
Operating temperature
0-50oC
Storage  temperature
-20-85oC
Humidity
5%~95%  (non-condensing)
Products in the same series
| | |
| --- | --- |
| Model | Description |
| HPC-FE1-ETH-00 | Framed (fractional n*64k bit/s) 2048 Kbps E1 – Ethernet, 75ohm&120ohm, 220VAC |
| HPC-FE1-ETH-01 | Framed (fractional nx64k bit/s) 2048 Kbps E1 – Ethernet , 75ohm&120ohm, -48 VDC |
Download
Tham khảo thêm các sản phẩm khác của Công ty TNHH Công Nghệ và Viễn Thông Hải Phong chúng tôi